Ludwig Goes Pop – The master pieces of pop art in Budapest
EXHIBITION
The new exhibition in the Ludwig Museum features, among many others, the works of Jasper Johns, Roy Lichtenstein, Claes Oldenburg, Andy Warhol and Mimmo Rotella also sheding light on their influence in Central and Eastern Europe.
| | |
| --- | --- |
| Magyar Múzeumok Online | 2015-10-12 14:18 |
Most of the over-200 works of art in the rooms come from the international Ludwig Collection at an insured value of 1bn EUROs. Although today American pop art is better known, the movement was recognised first in Europe. In the US, appreciation came due to Peter and Irene Ludwig's collection, but by that time the German couple had acquired many of the chef d'oeuvres of the school. The result is that now the Ludwig Museum in Budapest can illustrate the different lines in pop art through a uniquely rich collection.
The exhibition Ludwig Goes Pop went first to Cologne and then in February 2015 it moved to Vienna. However, the one here in Budapest is significantly different since it includes a large number of Central and Easter European works of art.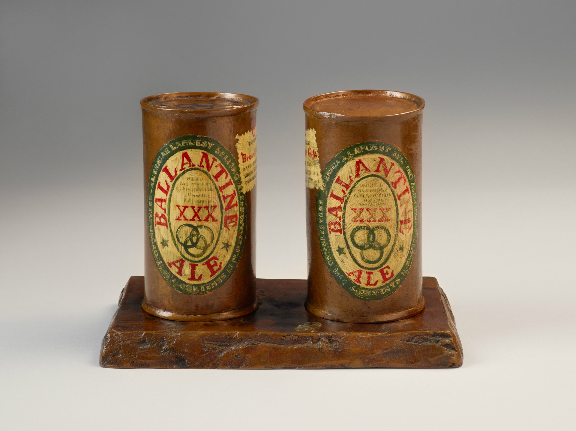 An example to illustrate this echoing between regions is Joe Tilson's giant female lip and, right opposite, the iconic figure of Polish conceptual art, Natalia LL's Consumer Art sequence. The pictures of a young female tasting a banana provocatively refer, at the same time, to lust and to the culinary desires which were very difficult to be satisfied in a socialist economy. Dialog between east and west is further drawn on in the room called "The hall of love". It got its name after Stano Fiko's bed installation and here Mimmo Rotella's painting depicting a scene from Jean-Luc Godard's Breathless is paired with one of Ilona Keserü's purest pop art work, the Couple, imagining a bed scene with Ringo Starr and Julie Christie.
The world of a household is evoked by Claes Oldenburg's Lingerie Counter and Stove installations, Leonid Sejka turned a slice of bread into a work of art while Gyula Konkoly  repainted a traditional Hungarian jug.
Pop art also reflected on the tabloid media's obsession with accidents: Andy Warhol's Death and Disaster series reflects on this. The 129 DIE (Plane crash) is a monumental enlargement of the cover page of a tabloid, and the Orange Car Crash 14 Times is also a depiction of the same subject in a more abstract way. The most monumental pieces of the exhibition are from Claes Oldenburg: the  Mouse Museum contains 385, the Ray Gun Wing 258 items evoking the wolrd of wunderkammers.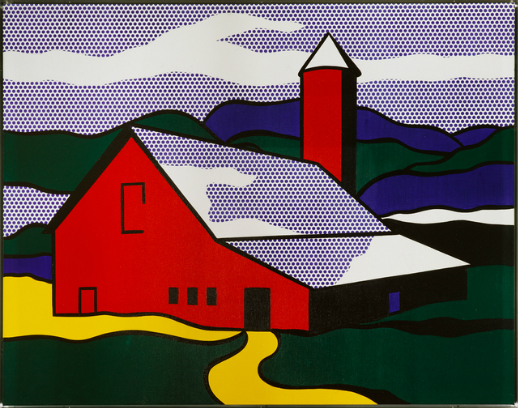 Curators: Katalin Timár, Some Bradák és Viktória Popovics
The exhibition is open until 3 January 2016, for the frequent events organised around it, check out the museum's website.: www.ludwigmuseum.hu